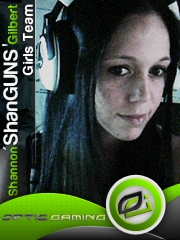 == System(s):== Xbox 360
Gamertag(s):
OpTic ShanGUNS
x ShananiGUNS
PSN:
(none known)
Links:
About ShanGUNS
ShanGUNS (Shannon) is the most recent member to the Girl's Division (11-15-10). She was offered a spot on the Girl's Roster before, but turned it down. After being offered again, she accepted. On Shannon's youtube profile, she states she isn't very 'lady-like'. But which girl-gamer is lady-like on Live or PSN? Shannon was close friends with the Girl's Division's leader for a long time, but she got in OpTic because of her skill ingame.
Ad blocker interference detected!
Wikia is a free-to-use site that makes money from advertising. We have a modified experience for viewers using ad blockers

Wikia is not accessible if you've made further modifications. Remove the custom ad blocker rule(s) and the page will load as expected.